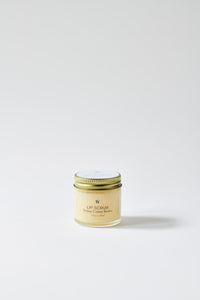 A sweet hydrating lip scrub and prep step that gently buffs and smooths for the sweetest, softest lips. 
The roughest dry lips are no match for this conditioning scrub. It removes flakes with fine sugar crystals, natural humectants, and blankets lips with shea butter, jojoba oil and other natural oils to maintain long-lasting moisture. Lips are left incredibly smooth, making it the perfect prep step before lipstick. 
Its sweet and decadent scent is reminiscent of creme brulee. This moisturizing and gentle formula contains natural humectants that prevent moisture loss and buffs away dry flakes, making it perfect for those who may have sensitive lips or those who want to scrub their lips more frequently. 
Ingredients: Sucrose*, vegan white chocolate, vanilla extract, raw honey*, jojoba oil, coconut oil, avocado oil, shea butter*, sunflower seed oil, castor seed oil, vitamin e, orange oil