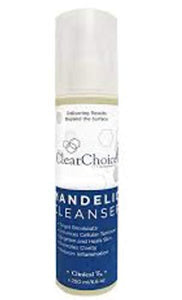 Instantly refine your skin every time you cleanse. This gel cleanser combines Mandelic Acid, Enzymes, and Turmeric to gently exfoliate and remove impurities from the skin. These powerful ingredients work to reduce inflammation while a unique blend of silk proteins helps restore balance and hydration leaving your skin with sheer clarity.
Mandelic Acid is an appropriate treatment for a wide variety of skin concerns, from hyperpigmentation to wrinkles. Mandelic Acid also provides excellent results when used in the treatment of acne. Mandelic is known to be a less harsh alternative to Salicylic Acid.
Certified Organic Aloe Vera, Cocamidopropyl Betaine, PEG-100,Disodium Cocoamphodiacetate, Lactamide MEA, Tocopheryl Acetate, Alpha Bisabolol (Chamomile), Disodium Lauryl Sulfosuccinate, Sodium Hyaluronate, Mandelic Acid, Camelia Sinensis (Green Tea), (2s)- 2- Amino- 5- Guanidinopentanoic Acid, Cocamide MIPA, Prunus Armeniaca (Apricot Kernel Oil), Punica ranatum (Pomegranate), Hydratis Candensis (Goldenseal), Humulus Lupulus (Hops), Cymbopogon Schoenanthus (West Indian Lemon Grass), Organic Simmondsia Chinensis (Jojoba Oil), Panthenol, Organic Rosmarinus Officinalis (Rosemary), Curcuma Longa (Turmeric), Carica Papaya (Papaya Enzymes), Mel (Honey), (Glycine, L-Alanine, L-Serine, L-Valine, L-Proline, L-threonine, L-Isoleucine, L-Histidine, L-Phenylalanine, L-Arginine (Silk Amino-Acids), Phenoxyethanol.