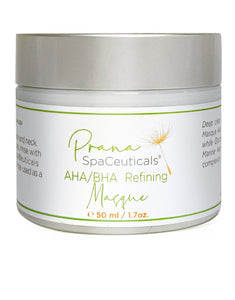 Deep clean your complexion with AHA/BHA Refining Masque. Kaolin and Smectite Clays reduce oil and detoxify while Glycolic, Salicylic, Azelaic and Kojic Acids remove dead cells and stimulate the skin revealing a glowing complexion.
CONDITIONS

• Gently exfoliates dead skin cells

• Helps to control acne breakouts

• Minimizes the appearance of fine lines

• Evens skin tone, clarity, & texture

• Lightens intimate areas

• Minimizes Folliculitis 

• Perfect for those that have a low tolerance to acid peels



INGREDIENTS

Organic Aloe Barbadensis (Aloe Vera), Kaolin, Sodium Magnesium Silicate, Magnesium Aluminum Silicate, Smectite Clay, Glycolic Acid, Sodium Carboxymethyl Cellulose, Micronized Zinc Oxide, Vegetable Glycerin, Spirulina Maxima (Spirulina), Salicylic Acid, Kojic Acid, Macrocystis Pyrifera (Kelp), Vitis Vinifera (Grape Seed Oil), Azelaic Acid.